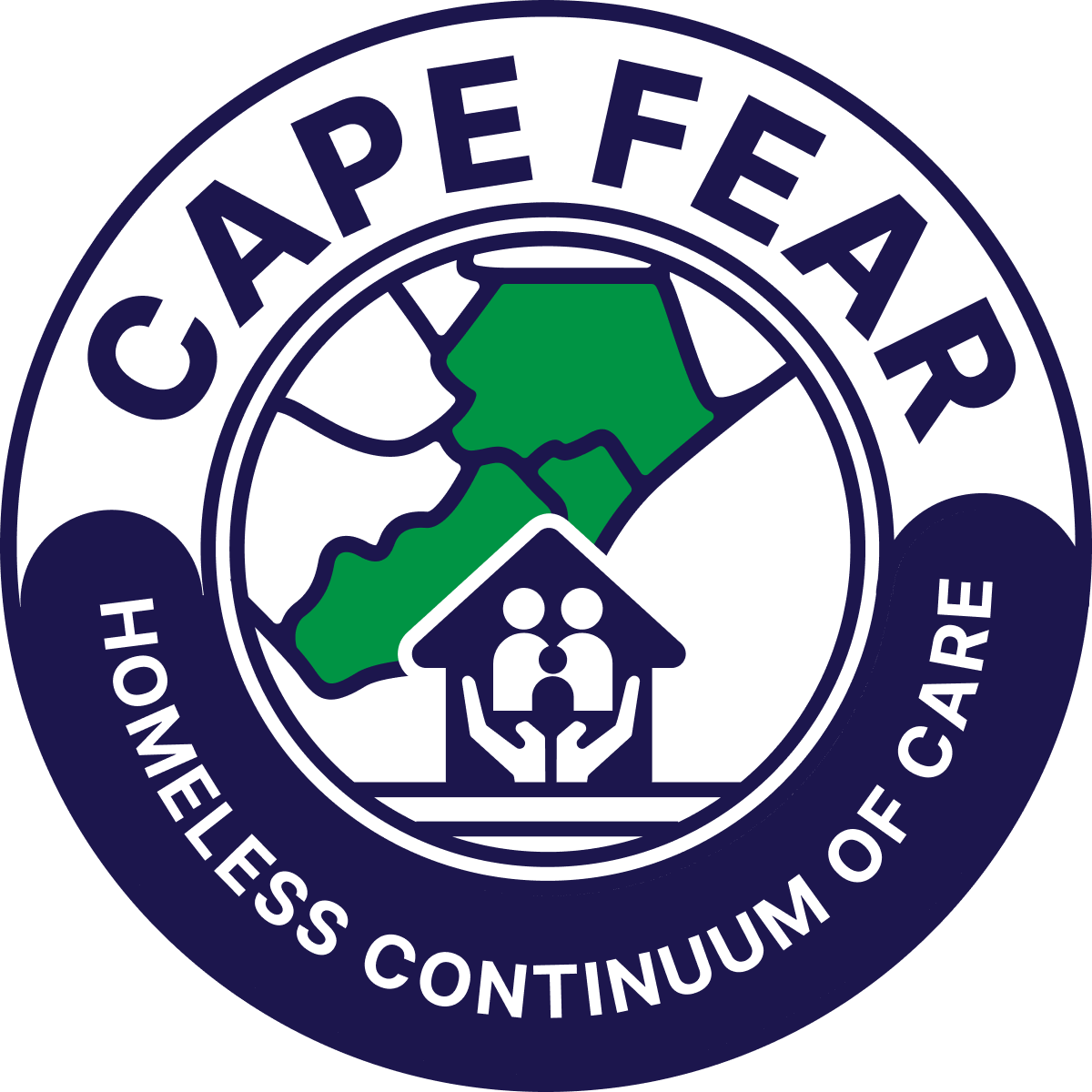 The Cape Fear Homeless Continuum of Care, formerly known as the Tri-County Homeless Interagency Council, is the Cape Fear Area's HUD - approved homeless Continuum of Care (NC-506) encompassing the City of Wilmington, Brunswick, New Hanover and Pender Counties. The Continuum of Care (CoC) is a collaborative alliance of service providers, local government agencies, and other public interests whose common goal is the reduction and ultimate elimination of homelessness in the Cape Fear Region.
Beginning in 1995, HUD encouraged the establishment of Continuums of Care in order to coordinate services and housing resources for those experiencing homelessness. With the passage of the HEARTH Act in 2009 and the Opening Doors federal strategic plan to end homelessness, Continua of Care are required to have an administrative "backbone" or Lead Agency and to further align their sources of federal, state, and local dollars. In an effort to meet the expectations of federal and state partners, the CFHCoC has partnered with the Cape Fear Council of Governments to provide staff and fulfill Lead Agency responsibilities. On an annual basis, CFHCoC brings in approximately $1 million in federal, state, and local funds to provide emergency services and housing opportunities to individuals and families experiencing homelessness in our community. 
The CFCOG is the Lead Agency for both HMIS and Coordinated Entry as well as the Collaborative Applicant for funding and Fiscal Agent for the CoC. The CFCOG staff provide administrative and compliance support to the CoC to ensure all the federal mandates for CoCs are met, resources are federal, State and local resources are aligned, and members agencies implement best practices in creating effect systems of ending homelessness. For more information on the Cape Fear Homeless Continuum of Care and membership, please contact CoC Director, Judy Herring.
CAPE FEAR HOMELESS CoC NOTICES:
CoC Board Approves Ranking and Funding Recommendations for HUD Annual CoC Grant Competition
The CoC Board approved the ranking, scoring and funding recommendations from the CoC Ranking Committee at its regular monthly board meeting. Information about the grant application process is on our Funding page. The approved information is shown below:
Further, as required by HUD the CoC Consolidated Application is posted for review and can by found by clicking on this LINK.
Continuum of Care Membership Requirements
If you would like to become a member of the Cape Fear Homeless Continuum of Care for the City of Wilmington, New Hanover, Brunswick & Pender Counties, please fill out our Membership Form, Personal Information Privacy Policy and the Code of Conduct Form.
Members, both agencies and individuals, are responsible for keeping their contact information up-to-date, attending meetings regularly, and collaborating with partners for the good of our community.
ALL member voices are valuable and community members who have lived experienced (currently homeless or previously so) are encouraged to join!
Area agencies who wish to seek funding through CoC related grants musts be CFHCOC members and must attend at least 75% of COC meetings to meet basic eligibility requirements.
Membership is free! Send completed forms to jherring@capefearcog.org.
COORDINATED ENTRY ASSESSMENT FOR PERSONS EXPERIENCING HOMELESSNESS
DO YOU KNOW SOMEONE EXPERIENCING HOMELESSNESS WHO NEEDS TO BE ASSESSED FOR SERVICES?
TO BE ASSESSED FOR HOUSING SERVICES, CALL THE COORDINATED ENTRY ASSESSMENT PHONE LINE:
Monday/Wednesday/Friday 10 am to 7 pm
Tuesday/Thursday 4 pm to 7 pm
910.444.0621
THIS IS A FIRST STEP IN HELPING HOMELESS FAMILIES & INDIVIDUALS OBTAIN HOUSING SERVICES IN OUR AREA.
Monthly Meetings of the Cape Fear Homeless Continuum of Care (CFHCOC)
The CFHCOC membership meets on the first Tuesday of every month at 9AM.
The meeting is moving to an in-person/virtual hybrid format. A fixed meeting location has not been set. Please contact the CoC Staff for the location of the next in-person location for CoC member meeting.
Everyone is welcome to attend!  Want to join as an organizational or individual member?
See our Membership and Community Resource page for a link to our forms.
CoC Monthly Member Meeting Virtual Details:
Join the meeting from your computer, tablet or smartphone.
https://www.gotomeet.me/JudyHerring
You can also dial in using your phone.
(For supported devices, tap a one-touch number below to join instantly.)
United States: +1 (786) 535-3211
- One-touch: tel:+17865353211,,617497309#
Access Code: 617-497-309 
New to GoToMeeting? Get the app now and be ready when your first meeting starts: https://global.gotomeeting.com/install/537086597